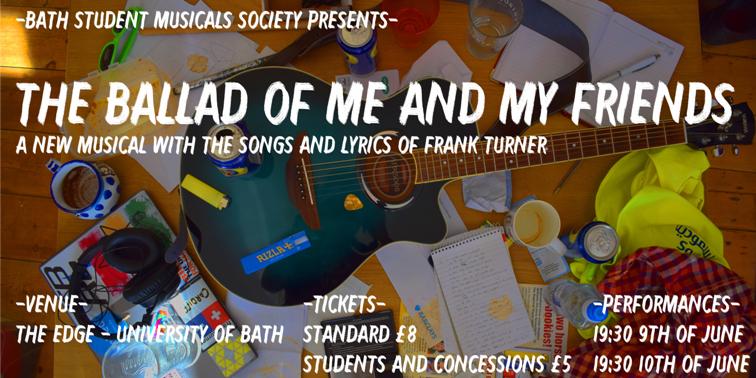 Bath University Student Musicals Society Presents:
The Ballad of Me and My Friends
A New Musical with the Songs and Lyrics of Frank Turner
A new jukebox musical written for this year's fringe follows the life and times of musicians, artists and other failed 21st century bohemians trying to make it in contemporary London. Taking inspiration from Frank Turner's lyrics and live shows, the performance weaves together gig and theatre in the Arts Lecture Theatre in Bath University's new arts complex, The Edge.
All ticket sales from this show will be donated to local arts charities.
????
Venue: The Edge, University of Bath
Performances

Friday 9th June 2017

Price: £5 for Students and Concessions, £8 Standard Ticket
Doors open: 19:00
Start time: 19:30
Add to your calender

Venue access: Full wheelchair access


Saturday 10th June 2017

Price: £5 for Students and Concessions, £8 Standard Ticket
Doors open: 19:00
Start time: 19:30
Add to your calender

Venue access: Full wheelchair access

Tickets can be bought online or at The Edge box office. Please see The Edge website for booking tickets: https://www.edgearts.org/
BOOK NOW
Bath University Student Musicals Society is an amateur musical theatre society for students studying at the University of Bath. To find out more please find us on facebook: https://www.facebook.com/BathUniversityStudentMusicals/ Or BathStudent: https://www.bathstudent.com/socs/societies/StudentMusicals-BUSM/