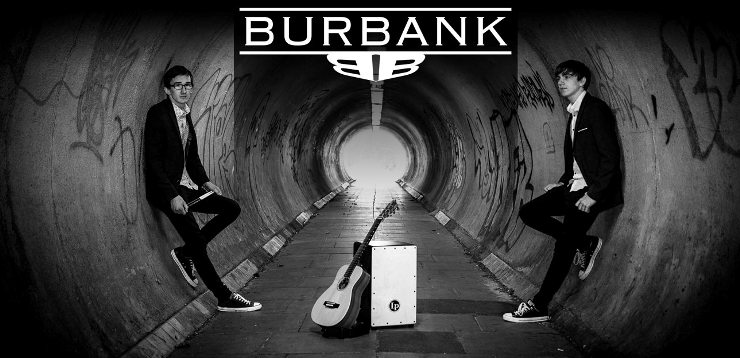 Sat 27 May 2017
Foxy Music presents
Burbank
Luke Gittins and Ashley Smith
Burbank, also known as Luke Gittins & Ashley Smith are a Wiltshire based duo formed in the Spring of 2016 and whilst performing at one of their very first open mic nights were spotted by Marland Music Management who signed them without a moment's hesitation.
Since that time they have gone on to perform well in excess of 100 gigs across the UK including many in Wiltshire, Bath, Reading, Norwich and London where they have performed at The Bedford and the very exclusive Century Club in Soho attracting the attention of some very influential promoters.
Last summer they headlined at SplashFest in London's Battersea Park and in October. traveled to Spain for JaveaFest and recorded a version of 'I See Fire' for a fundraising video following the devastating forest fires that threatened to destroy the area. Burbank have made numerous appearances on local Radio and following their debut appearance on BBC Radio attracted over 12,000 views when they performed their original song 'The One'.
They have collectively written over 150 original songs and are often described as the new 'Lennon & McCartney' their influences being Ed Sheeran & John Mayer amongst others.
This year will see the release of their first EP 'Overture' on March 11th 2017 and many more gigs and appearances at Festivals including a return to the Swindon Pride Event and JaveaFest 2017.
Next year they tour America.
https://www.facebook.com/BurbankDuo/
Instagram burbank.official Twitter @burbankofficial
Sponsored by Foxy Music: www.foxymusic.net
????
Venue: The Barley Mow
Performance

Saturday 27th May 2017

Price: £3 / £4 on door
Doors open: 20:00
Start time: 21:00
Extra info: 2 x 45 minute sets with a break.
Add to your calender

Venue access: Please call in advance for wheelchair access requirements

Tickets available from:

Bath Box Office (Tel. 01225 463362)