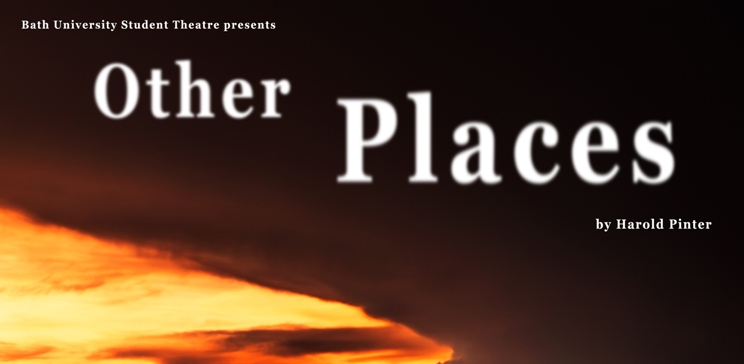 Bath University Student Theatre Presents
Other Places
By Harold Pinter
Three of Harold Pinter's greatest One Act plays performed together in one evening.
A Kind of Alaska - After thirty years in a comatose state, Deborah awakes from her "sleeping sickness" with a mind still that of a sixteen-year-old. She must confront a body which seems to have aged without her prior knowledge or consent
Victoria Station - A radio dialogue between a minicab controller and a driver who is stopped by the side of "a dark park", supposedly waiting further instructions. Lasting fewer than ten minutes, the play's tone is a classic example of Pinter's "Comedy of Menace".
One for the Road - Considered to be Pinter's statement on human rights, the short play follows Victor and his family as they are psychologically tormented by Nicolas, their captor and only point of contact.
????
Venue: The Museum of Bath at Work
Performances

Friday 9th June 2017

Price: £8/ £5 Concs
Doors open: 19:45
Start time: 20:00
Extra info: Recommended Age: 15+
Add to your calender

Venue access: Wheelchair users will require assistance


Saturday 10th June 2017

Price: £8/ £5 Concs
Doors open: 19:45
Start time: 20:00
Extra info: Recommended Age: 15+
Add to your calender

Venue access: Wheelchair users will require assistance