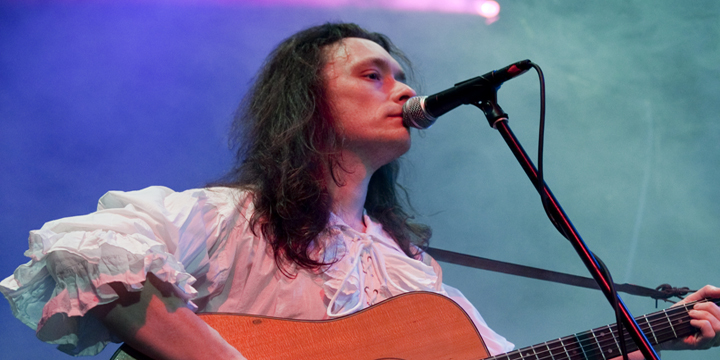 Sat 10 June 2017
Foxy Music presents
A Tribute to Pink Floyd
by James Hollingsworth
Spellbinding guitar wizard and (and ex frontman of rock act JEBO) - James is one of the best guitarists, singer, songwriters in the UK (The Independent). James creates amazing soundscapes using skilful guitar effects and loop technology to recreate the legendary rock of Pink Floyd and totally blow your mind! A "truly phenomenal experience" (Barry 'The Fish' Melton, Country Joe and The Fish), an absolute must for all fans of Pink Floyd and psychedelic, folk, blues, trance or metal guitar.
South-West England-based James Hollingsworth has a passionate voice and a unique, complex acoustic guitar finger-style, reminiscent of Andalusian guitar, fusing elements of folk, blues, trance, metal and psychedelic rock. Since turning professional in 2006 he's played numerous festivals, private bookings, folk, acoustic and rock venues nationally, supported Nick Harper (twice), Cara Dillon, Hazel O'Connor, 60's legends It's a Beautiful Day and Barry 'The Fish' Melton (of Country Joe and The Fish), who said:
"It was truly a phenomenal experience hearing James Hollingsworth's music, I know now that the tradition of groundbreaking music is in good hands. Thank you, James – Barry Melton."
A former long-time resident of Bristol's Tantric Jazz Cafe, James is adaptable and spontaneous, picking material with his mood and that of the audience. As well as being a critically acclaimed songwriter, he performs soulful interpretations from his repertoire of 300+ covers, including solo acoustic Pink Floyd Nights.
As frontman with rock act JEBO, James performed at top venues including The Royal Albert Hall, Nottingham's Royal Concert Hall, Loreley (DE), Ghent Festival (BE) and Monmouth Festival and worked with legendary producer John Burns (Genesis, John Martyn, Burning Spear) on their debut album, Sinking Without You.
Sponsored by Foxy Music: www.foxymusic.net
????
Venue: The Barley Mow
Performance

Saturday 10th June 2017

Price: £5 / £6 door
Doors open: 20:00
Start time: 21:00
Add to your calender

Venue access: Please call in advance for wheelchair access requirements

Tickets available from:

Bath Box Office (Tel. 01225 463362)