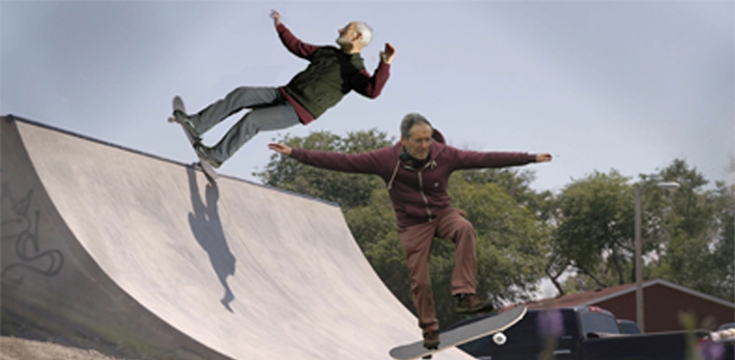 Fri 2 June 2017
Mike Scott and David C Johnson's World Premiere
Still Doing It
A show full of wit, songs, poetry and banter
How did talented singer/songwriter Mike Scott, ex pupil of PenPole Point Secondary Modern, and David C Johnson, witty, prize-winning performance poet, ex cadet of the Nautical College Pangbourne, find themselves writing a show and sharing a stage? Their entertaining and original "Still doing it" attempts to answer this question, as they talk, sing and poetise on School, Sport, Travel, Art and the consequences of getting old. They maybe of a certain age but they are definitely " Still Doing it".
For the first Time ever, folk singer/songwriter, legend of the west, Mike Scott and internationally acclaimed, slam-winning performance poet, David C Johnson will perform together on stage in a full length (55mins) interwoven feast of witty, pithy, acutely observed songs and poetry. No subject is spared from early school days, to sport, from travel to art and old age, if they haven't been told to go to bed by matron by then. Mike and David have shared the bill before at The Rondo and The Alma Tavern Theatre, but never combined in this way before.
Mike Scott is a popular stalwart of the West Country folk scene, who has performed his own songs at many music festivals, including Priddy, Chippenham and Trowbridge Village Pump. He has released 12 CDs of his own inimitable music.
David C Johnson is a slam-winning performance poet and Radio 4 playwright who has featured at Festivals from Cheltenham to Sheffield and from Newcastle to New Orleans & New York. He has 5 published poetry collections and has collaborated with film makers on a number of poetry films shown at Festivals from Germany to Greece. David performed at one of the first Bath Free Festivals in 1973 at the Cleveland Hotel.
????
Venue: Rondo Theatre
Performance

Friday 2nd June 2017

Price: £10 (£9 concs)
Doors open: 19:30
Start time: 20:00
Add to your calender

Venue access: Please call in advance for wheelchair access requirements

Rondo Theatre Box Office www.rondotheatre.co.uk/box-office/ Tel:01125463362
Tickets available on the door