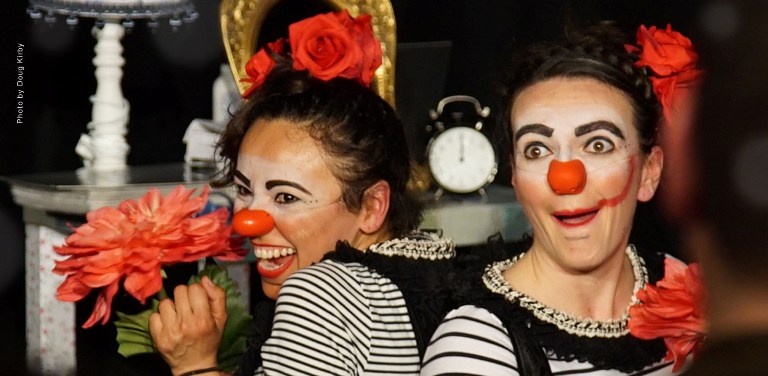 Sat 27 May 2017
NOS Three Presents
Blooming Out
with Bianca Bertalot and Maria de Jesus Aguiar
The life of every woman from childhood to adulthood is fulfilled with great discoveries and endless transformations. Blooming Out is a clown show that explores in a light and comic way some of the most intriguing moments in the whole feminine universe. The fascination of beauty, the girly plays, the first time putting on make-up, the body's development including its feminine parts, the arrival of the period, the first kiss, the oppression and the fear, the maternity, the love, the demands and the social taboos, the work, happiness, growing old; these are some of the many fascinating and scary themes that build this story.
BLOOMING OUT is a clown show using only non-verbal language, creating touching scenes of great power and beauty. A celebration of being female and feminine, interpreted by two actresses, two clowns.

"You sometimes need to see something done very well to appreciate that your palette has been spoiled by inferior articles…Blooming Out was at its core beautiful, haunting and unapologetic! It was with me long after I left the theatre."
Review by The Swindonian
Link to the full review: http://www.theswindonian.co.uk/swindon-fringe-special-antigone-and-blooming-out-the-shoebox-theatre-swindon-friday-7th-april/

"Quite a brilliant 'show not tell' on life and all its dilemmas. Well done with the use of props, facial expressions and vigour. It is quite brilliantly done indeed."
Audience review at Salisbury Play House
????
Venue: Rondo Theatre
Performance

Saturday 27th May 2017

Price: £10/£8
Start time: 20:00
Extra info: age 12+
Add to your calender

Venue access: Please call in advance for wheelchair access requirements

Tickets can be bought via Rondo Theatre's website www.rondotheatre.co.uk or via the phone number 0333 666 3366. It is strongly advised to buy in advance to avoid disappointment!
Tickets available on the door
BOOK NOW