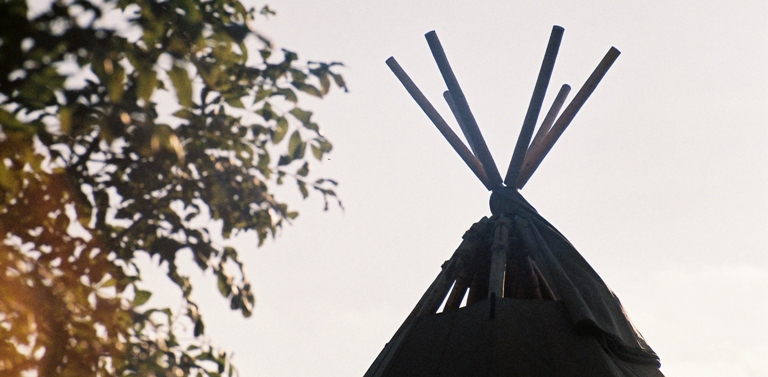 Sat 10 June 2017
Nowadays Family Tipi
Adventures in Story, Theatre and Music
JOIN US ROUND THE CAMPFIRE FOR MUSIC AND STORYTELLING! At the magical tipi with your family, catch up with your friends and picnic on the lawn or sit at tables on the Edge terrace enjoying the summer's evening. Take part or watch your children create their own 'moving suits.' Then it's time to sit back together around the tipi camp fire (mixed seating including cushions, chairs and a snug) and hear marvellous and fantastical stories with a musical twist…Enjoy Kilter Theatre, Storytelling with Somerset Storytellers, James Watts and Michael Loader and create wonderful moving costumes with Lets Make Art! A wonderful summer's evening treat… This event is suitable for grownups and under 12's."

Edge Arts Music presents 'Nowadays' in association with Bath Fringe.

£10 adult / £8 Concs & child OR,

Option one ticket: £24 group ticket – (inc:1 adult & 3 children)

Option two ticket: £26 group ticket – (inc: 2 adults & 2 children)

Thank you to our friends Buffalo Tipi, Let's Make Art, Kilter Theatre, James Watts and Michael Loader (Somerset Storytellers) for helping to provide this very special pop up event.


????
Venue: The Edge, University of Bath
Performance

Saturday 10th June 2017

Price: £10 ADULT / £8 CONCS/ £8:00 CHILD/ £24 GROUP TICKET – OPTION ONE (INC:1 ADULT & 3 CHILDREN) / £26 GROUP TICKET – OPTION TWO (INC: 2 ADULTS & 2 CHILDREN)
Doors open: 18:00
Start time: 20:30
Add to your calender

Venue access: Full wheelchair access