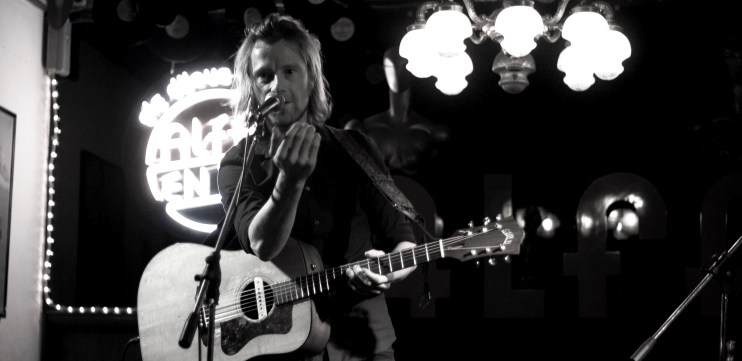 Thu 8 June 2017
Rik van den Bosch and Rainy
Rik van den Bosch
Folk music from a globetrotting Dutchman.
Rik writes, sings, and plays his own songs on his acoustic guitar, drawing from a wide influence of styles: original folk and blues sounds from way back, sixties' rock 'n' roll grooves, and up-to-the-minute pure rock rhythms - with a bit of gypsy and Spanish influence thrown in for good measure.
Rik is a one-man-band, armed with a variety of tools to create a full and interesting sound, from his slide and harmonica to his incredible vocal range. He is a storyteller, both in and between the songs in his set.
He shies away from textbook techniques, settling outside the margins of academic art and making up his own rules. And he's been doing this for a long time! At the age of seven he built his own guitar using a tin can, a chunk of wood and a nylon string.
Rik continues to push the boundaries of musical orthodoxy, delivering his latest E.P. 'Love on the rocks' with four brand new recordings and four brand new video clips alongside.
American / Dutch folk and blues legend Michael de Jong wrote about 'Love on the rocks': 'You should be proud of this one!'
In 2005 Rik made it to the finals of Holland's biggest singer-songwriter contest. This kickstarted his singer-songwriter career and he has been touring around Europe ever since.
Watch, listen and enjoy the journey.

Rainy

"Laid back grooves, sun soaked open roads and a healthy dose of wonder"
Rainy is a singer-songwriter and multi instrumentalist. He writes, records and performs all the music on his albums excluding the odd special guest appearance from friends. Rainy's songwriting draws from a deep well of musical influences. African, Cuban and Latin grooves meet Folk, Blues and Reggae with the warm-hearted positivity of his lyrics. This laid back musical infusion makes Rainy one of the most watchable, listenable and dynamic songwriters you could hope to come across. His music has been described by many as G-Love meets Dave Matthews meets Paul Simon meets Crosby Stills & Nash - in truth it is essences of the all above... and something else entirely!
Rainy has performed with his band at the likes of Glastonbury, supporting Reef at Lakefest alongside Toploader, Martin Taylor at Darvel, Sea Sick Steve and Ed Sheeran at Oceanfest and playing many other stages across the UK. A regular on Radio Cardiff they became favourites on BBC Radio Bristol. In 2011, amongst thousands of applicants; Rainy won the PRS songwriting competition for studio time in London. Indie Music Reviewers gave him an honourable mention in their '50 acoustic artists not to miss'. His music has been played on several BBC Shows including The Mark Forest show and Tom Robinson's BBC 6 music alongside being selected for Tom's Fresh on the Net mixtape.
Rainy has spent the last few years performing as a duo with Jazz guitarist Rob York and with his band Rainy and The Dust. He is currently performing solo whilst working on his new album, anticipating release in 2016.
Latest Album 'Hold on to the Rhythm' on: www.rainyandthedust.bandcamp.com/
????
Venue: Chapel Arts Centre
Performance

Thursday 8th June 2017

Price: £8 Adv; £10 on door
Doors open: 19:30
Start time: 20:00
Add to your calender

Venue access: We regret there is no wheelchair access to this venue

www.wegottickets.com
Tickets available on the door and from:

Bath Box Office (Tel. 01225 463362)
Chapel Arts< (Tel. 01225 461700)
Life and love are the central themes in all his songs, and this latest E.P. is no different. Here's a hint from the title song 'Love on the rocks': 'You don't have to move To make me run after you I'm losing my breath This testing you put me through' Lyrics from his song 'Head full of cotton wool' depict life as a psychiatric patient: 'They said that now that I am cured from insanity They don't know any more what to do with me So they kick me right back into society And my story starts all over again, I am so sorry' As resident engineer at Chapel Studios in Linconshire Rainy worked with a wide variety of well known bands and producers. A move to Wales saw the release of 'What It All Boils Down To' from his home studio where he continued to perform and develop these songs with his band Little Gaia. He engineered and featured on Nayfe sj's 'All About The Lessons' in 2001. After traveling and performing in Australia he returned in 2006 with 'Hold On To The Rhythm' recorded at his new home near Bath U.K. and a new band line up. In 2012 he produced Caroline Harrison's EP 'A Simple Wish'.