Sorry, this event is cancelled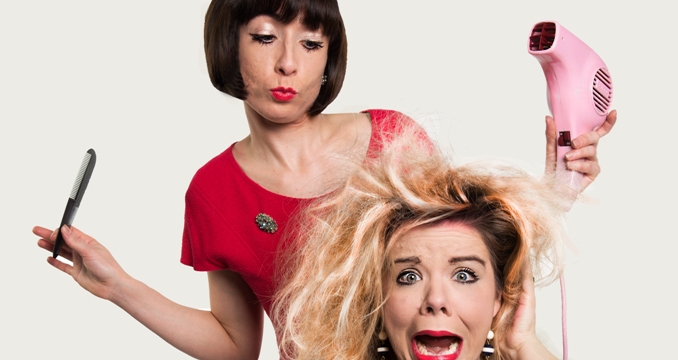 Sylvia Hunt Presents
Tease and Preen
supported by Bath Spa Live
THIS EVENT HAS BEEN POSTPONED UNTIL THE AUTUMN

Backcombed, behived, then set firmly in place - Tease and Preen is the new high wired, electrically charged physical theatre show from Sylvia Hunt Presents. With more sass and va-va-voom than Brigitte Bardot's barnet and a good layering of eccentric comedy and puppetry, throw in a matching toy poodle you've got one très chic ensemble.
In the mid 1960s in the east end of London it is business as usual at Peaches Hair Salon until young apprentice Connie heads to a swinging party one night and discovers that hair is quite different at the other end of town. Suddenly life's more happening, skirts are shorter, shaking those hips and swinging a bob is where life is at! But will life still be as 'groovy' the next morning when everyone's left the party? And who's going to be around to clear up the hair clippings on the salon floor?
????
Venue: Burdall's Yard
Performances

Thursday 8th June 2017

Price: £8 / £6 Concs / £4 BSU
Doors open: 17:30
Start time: 18:00
Add to your calender

Venue access: Full wheelchair access


Friday 9th June 2017

Price: £8 / £6 Concs / £4 BSU
Doors open: 15:30
Start time: 16:00
Add to your calender

Venue access: Full wheelchair access

Tickets available from:

Bath Box Office (Tel. 01225 463362)
Bath Spa Live
BOOK NOW