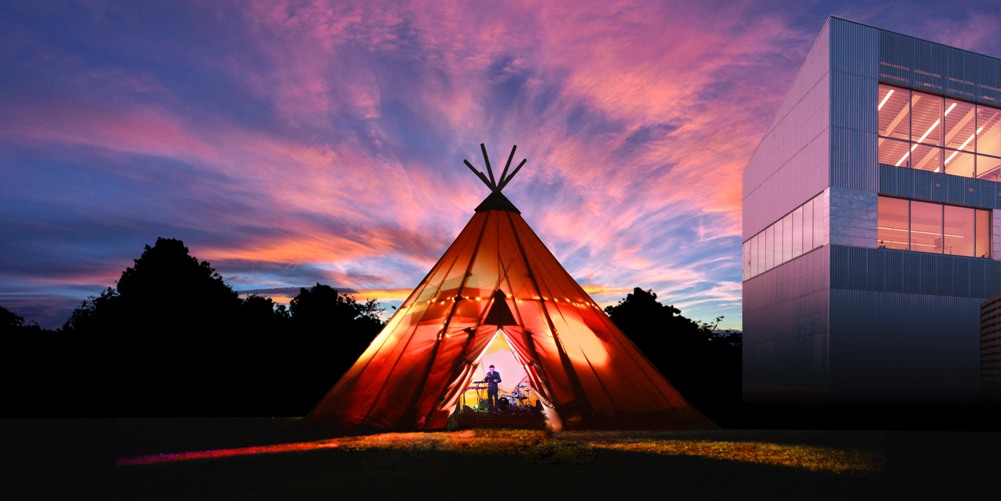 Fri 9 June 2017
Nowadays Tipi
Kadialy Kouyate & Claire Northey
A celebration of summer strings
Nowadays is popping up this summer with a rich blend of new and old music. Join us for this unique musical evening in our enchanting tipi venue, set in the grounds of The Edge. A delicious summer's evening treat… with mixed seating including cushions, picnic benches, chairs and cosy snug…

Master Kora player and songwriter KADIALY KOUYATE is born into the Kouyate Griot tradition of Southern Senegal and continues to enchant audiences both internationally and in the UK. Since his arrival in the UK Kadialy has played a significant part in enriching the London musical scene with his music. Kadialy has played: The Royal Festival Hall, The O2 Arena, Queen Elizabeth Hall, Woodstock with Afro Celt Sound System (to an audience of 750,000), International tours, Radio and TV appearances: BBC Radio 3 'World Routes'; Charlie Gillett's 'World of Music; BBC World Service (Radio and Television) amongst many others….

We are also excited to welcome Bristol-based French violinist CLAIRE NORTHEY to the Tipi. Claire's classical roots and her times writing for theatre productions in France, Egypt and Morocco form the background of her exploration as an electronic musician. A captivating live performer mixing vocal, violin and loops, Claire has graced major festivals including Kendall Calling and Submerge. In her journey to prominence, Claire has collaborated with artists such as DJ Yoda, their acclaimed project winning the BBC6 Music 'Breakfast of Champions,' which went on to tour UK festivals and venues. Claire's album Mavromati is out now.

Edge Arts Music presents 'Nowadays' in association with Bath Fringe Thanks to our friends Buffalo Tipi and CHKONE.
Tickets from Edge Arts box office and www.edgearts.org
Tickets available on the door
BOOK NOW