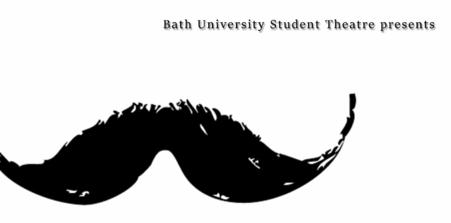 Bath University Student Theatre Presents
Tartuffe
by Molière
Mesdames and Messieurs, prepare for a performance par excellence! Tartuffe, based on the play by Molière, France's most famous dramatist, is set in traditional French high society.
The charming, pious and allegedly righteous Mr. Tartuffe is a mystery. He convinces a rich French aristocrat, Orgon, to take him under his wing. Tartuffe is, au contraire, a complete fraud, a scoundrel and an imposter. Quelle horreur!
The rest of Orgon's family are certainly not convinced by Tartuffe's façade. They attempt to give Tartuffe a taste of his own medicine and find various ways to reveal his true nature to the stubborn Orgon. Chaos ensues when our lively characters come together: including Elmire, Orgon's levelheaded and sharp-witted wife; Dorine, the outspoken and sassy maid; Mariane the delicate and love-struck daughter; and Valere, Mariane's loyal and determined suitor. Sacré bleu! Will the family be able to finally oust the terrible Tartuffe and forgive each other in the meantime?
In his well-loved pièce de resistance, Molière explores class relations and the hypocrisy of the crème de la crème of France's social order, which is still relevant to our modern times and gives us some food for thought.
This performance offers a fantastic opportunity to see a timeless classic, jam-packed with satire, non-stop comedy and lovable characters that are accessible to all. Be prepared for a soirée full to the brim with wit-infused shenanigans. Tartuffe has all the vim and vigour of Molière's classic drama, revamped for the Bath stage. Oh la la!
????
Venue: The Mission Theatre
Performances

Friday 9th June 2017

Price: £8/ £5 Concs
Doors open: 13:15
Start time: 14:00
Add to your calender

Venue access: Full wheelchair access


Saturday 10th June 2017

Price: £8/ £5 Concs
Doors open: 17:15
Start time: 19:30
Add to your calender

Venue access: Full wheelchair access