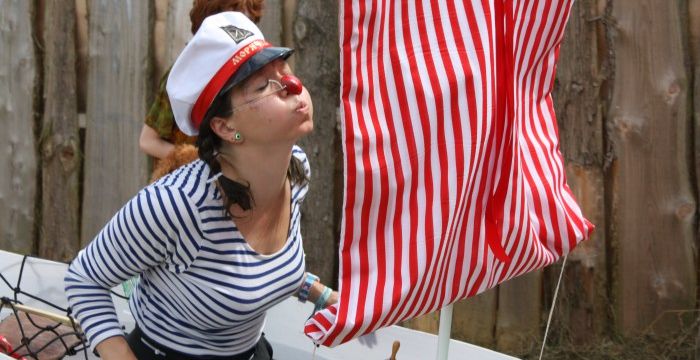 Julia Vita: Splish
A solo show from Julia Vita as part of the New Works Work Scheme
Splish, the seafaring clown, has been blown far inland, and now she's navigating the fair in her tiny sail boat. If the wind is strong it can carry her along for a while, and if it settles down then she blows on her little sail and inch forward bit by bit. She encourages passers-by to blow on her sail too. Along her journey she finds adventures and silly games to share with the crowd.
This performance is part of Bedlam Fair which starts at 12:30 on Saturday and on Sunday. Performances will take place throughout the afternoon see chalk boards on the day for show schedules.
Sponsored by Julia is being fed by The Westgate pub. Thanks Vytas: www.westgate-bath.co.uk
????
Performances
Saturday 3rd June 2017
Price: Free
Start time: 12:30
Add to your calender
Venue access: Full wheelchair access

Sunday 4th June 2017
Price: Free
Start time: 12:30
Add to your calender
Venue access: Full wheelchair access