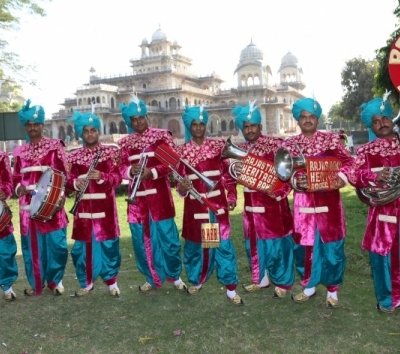 Rajasthan Heritage Brass Band
With a diverse repertoire spanning Rajasthani folk songs, Bollywood hits, spiritual qawwali and Bhangra beats these ten vividly costumed artists cover the full spectrum of the evocative and joyous music that governs life in Rajasthan.
This performance is part of Bedlam Fair which starts at 20:00 on Saturday night and at 12:30 on Sunday afternoon. Performances will take place throughout the afternoons / evening see chalk boards on the day for show schedules.
Sponsored by Rajasthan Heritage Brass Band are being fed by Phat Yaks, thanks!: phatyaks.com
????
Performances
Saturday 3rd June 2017
Price: Free
Start time: 20:00
Add to your calender
Venue access: Full wheelchair access

Sunday 4th June 2017
Price: Free
Start time: 12:30
Add to your calender
Venue access: Full wheelchair access